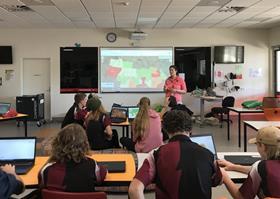 The dynamic world of global supply chain management is being brought to Australian classrooms.
The RACE Gippsland programme – standing for Raising Aspirations in Careers and Education – aims toinspire students to think about a careerin agriculture, particularly beyond the farm gate.
Led by CQUniversity, with support from Australian supply chain intelligence providerEscavox, the programme will have an initial focus on theVictorian farming region of Gippsland. Itwill be available to educators Australia-wide after its roll-out.
EscavoxCEO Luke Wood said inspiring the nextgenerationof supply chain managersand post-harvest technologists was a key motivator behind the company's move to back the RACE Gippsland concept.
"We are a young company at the forefront of the ag-tech evolution that will carry agricultureinto the future," Wood explained.
"To be globally competitive in this space it is critical we are equipping our students of today to be the innovators and leaders of tomorrow."
Oneaspectof the project is to create learning modules using real industry technology systems toillustratethe high-tech nature of the agricultural sector.
The curriculum is designed to be "hands-on, interactive and engaging",accordingto Dr Nicole McDonald, a seniorresearchofficer at CQUniversity.
"Agriculture is such abroadindustry, andwe need toshowcase the manydifferencetypes of skills and knowledge that are requiredtolead to a rangeof excitingcareers," McDonald said.
"Thevast number of careers availabledemanda broad set of skills and interests, from science,mathsand IT,but alsobusiness,marketing,trade,logisticsmanagement and international diplomacy."
Studentswho arepart of the RACE Gippsland project will have access to their own purpose-builtEscavoxdashboardor 'user-interface' as it is known in the business.
They will be able to take part inmodulesthat simulate the supply of produce fromGippslandto all parts of the world,where thesafe and successfuldelivery of that product depends on the decisions they take during the exercise.
"WhatEscavoxhas provided is a perfect platform forincreasing thedigital literacyof young people– conducting searches, analysing problemsbyinterpretingthe data,investigating options for corrective actionand shortlisting solutions," McDonald said.
"But beyond all of those skills it drives home themessage of the critical role thattechnologyplays in helping to feed the people on our planet. It's giving students in this programme tangible information with real-world outcomesand that's a great gift fromEscavoxto Australian educators and their students."