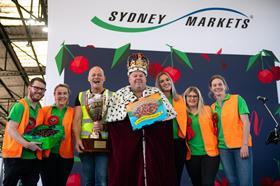 Thousands of dollars were raised for children's charities as the Sydney Markets held its 39th annual cherry auction on 13 November.
The highlight of the day was the final auction of the symbolic first carton of cherries for the season, this was sold for A$20,000 (US$13,000).
The cherries for final auction were supplied by the Batinich family-owned Cherrymore orchard in Young, New South Wales and the winning bid came from brothers Shaun and Heath McInerney, owners of wholesaler Fresh Fellas.
The proceeds from this auction and a number of other live and silent auctions held on the day will be donated to the charities Help for Hirschsprung Disease (H4HD) and Variety – the Children's Charity.
In addition to the auctions, attendees were kept busy with plenty of food, entertainment, competitions and special guests including National Rugby League players.
Brad Latham, chief executive of Sydney Markets, was proud of the ongoing success of the event, which has raised more than A$1m (US$684,000) since it started.
"The cherry auction has been a highly anticipated event on the Sydney Markets calendar for almost four decades," Latham said.
"It is always a fun-filled morning and the perfect way to welcome the start of the stone fruit season whilst raising funds for some very worthy causes."

David Sexton, chief executive of Variety - the Children's Charity NSW/ACT, said the organisation was grateful for the support.
"The funds raised by the cherry auction will allow us to continue to help thousands of kids who are sick, disadvantaged or living with special needs to get a fair go," Sexton said.
"This includes granting urgently needed medical and mobility equipment, as well as educational programs, scholarships, and inclusive play spaces."
Georgina Altas, founder of H4HD, added: "I created this not-for-profit following my son's Hirschsprung diagnosis, to help families who have been impacted by bowel disease.
"The ultimate goal for H4HD is to provide toiletry bags and stoma bears to every children's hospital across Australia. Today's proceeds will take us closer to realising that goal."