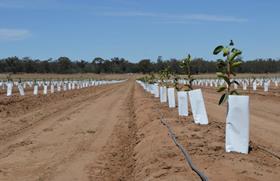 Development is underway at Agriculture Capital's 1,062-acre farm near Barooga, New South Wales.
Known as Glen's Hill, the farm is Agriculture Capital's first greenfield site in Australia. Over 331,000 trees are currently being planted as the property boasts a mix of elevated sand hills and sandy loam soils, all well suited to citrus.
Agriculture Capital is a US-based investor in permanent cropland and midstream food processing asset. Glen's Hill farm manager Ben Hayward said the large-scale project was running to schedule.
"We have a great team of workers who are averaging to plant over 14,000 trees a day and we also have 3 to 4 B double loads of trees being delivered each day," said Hayward.
"It's very exciting to be part of this new development. We have a number of contractors and local businesses who we are working with and it's great to see this citrus farm coming together with such intricate planning and detail," he added.
The types of citrus trees currently being planted include Sumo Citrus, Cara Cara and Afourers. The young citrus trees will take approximately four years to grow and produce fruit, with the first citrus harvest expected in 2025.
All citrus trees are watered using drip feed irrigation being supplied from Murray Irrigation main supply channel which offers high water availability in peak periods.
Once operational, the property is expected to provide a boost to the local economy as it will attract many full time and seasonal roles.
"This is an exciting development that will increase product supply to new and existing customers as well as creating local jobs and providing a boost to the local economy," said Hayward.