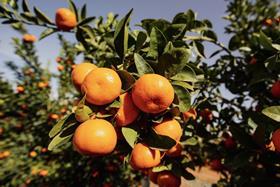 Strict quality standards will continue to underpin the development of the Delite mandarin brand in the Australian market.
Nutrano Produce Group holds the Australian marketing rights to the branded mandarin variety and is the country's largest Delite grower.
With the 2020 harvest now in full swing, Simon Raj, general manager of sales and marketing at Nutrano Produce Group, said the diversified produce business was working with some of Australia's best citrus producers to deliver the crop to Woolworths stores across the country.
"Our growers are incredibly passionate about growing Delite mandarins," explained Raj. "They continue to honour the strict brand guidelines and quality specification for Delite mandarins including seed count, brix and juice level to consistently deliver a great eating experience for consumers.
"We are pleased to have several key West Australian growers on board this year which has allowed a Delite programme for Western Australia."
Nutrano Produce Group continues to invest in the growth of the Delite mandarin programme.
It recently installed protective nets across its farming operations in Victoria and has established a nursery at its Sunraysia property, planted with new Delite trees to meet growing consumer demand.
While the coronavirus (Covid-19) pandemic has prompted some alterations to marketing plans, Raj was confident consumer awareness and demand would continue to grow for Delite.
"Last year we rolled out the 'Fruitful of Smiles' campaign which resonated well with consumers. We continue to pay homage to the quality standards Delite customers have become accustomed to being sweet, seedless and easy to peel" said Raj.
"This year, our marketing campaign has been adjusted to reflect the Covid-19 landscape and changes in consumer behaviour which has seen a shift in cooking and eating more at home and increased use of digital and social media. But most importantly the need for healthy snacking and boost Vitamin C intake at a time when overall health and wellness is top of mind for all Australians.
"New recipe ideas have been developed to provide easy food inspiration for the home cooks and get the kids involved in the kitchen as well as fun interactive ways to keep the kids entertained and get them to eat healthy fresh fruit."