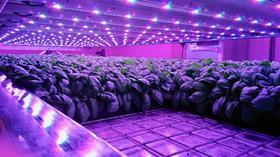 Eden Towers is a step closer to opening a solar powered indoor farm in Western Australia.
The company is finalising the design and development of a four-tower industrial-scale facility, which is being constructed at the Western Australian Food Innovation Precinct in Nambeelup, west of Mandurah.
To aid with final stage development, Eden Towers has secured a A$200,000 grant through the precinct's Enterprise Support Program.
Christian Prokscha, co-founder of Eden Towers, said the farm would be fully operational by mid-2023. It will grow upwards of 120 tonnes of fresh produce per annum, including lettuce, spinach, kale, microgreens, edible flowers and herbs.
'Our research and development programme, in combination with the precinct, has positioned us well to work with collaborators Future Food Systems CRC and Murdoch University when the facility opens mid-2022," said Prokscha.
"The diverse mix of specialty skillsets will commercialise a first of its kind in Australia and globally on an efficiency per square metre scale, which in our system sees a 40m2 growth tower producing an equivalent yield to 6000m2 plus in a traditional field."
The facility will target carbon neutrality by running on near 100 per cent renewable energy and recycling all inputs.
"Our vision is to promote a sustainable future through superior agriculture technology, sustainable energy and water systems, and smart use of land and location," Prokscha said.
"With this technology and science we are also looking to work with farmers and industry to support a growing ag-tech sector in Western Australia and Australia."
Eden Towers specialises in building vertical farms using Cloud and Internet of Things technology. Its production system allows plants to grow year-round without soil. The company claims this process uses 98 per cent less water and achieves up to 15 times the yield of a greenhouse or open field.
Along with the Western Australia facility, Eden Towers has projects planned for Sydney, Melbourne, Singapore and Jakarta.
The Western Australian Food Innovation Precinct is supported by A$21.75m from the Australian government's Regional Growth Fund.