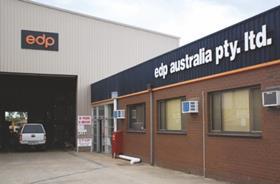 Grading and packaging specialist edp Australia has underlined its commitment to the citrus industry by renewing its major partner status with Citrus Australia.
From its base in Mooroopna, in Victoria's Goulburn Valley, edp supplies a wide range of solutions for the fresh fruit and vegetable industry, including machinery and consumables.
The company has a long-term relationship with Spanish company Giro, a leader in sustainable packaging systems.
Citrus Australia chief executive, Nathan Hancock, said the peak industry body's members had greatly benefitted from the five-year relationship with edp.
"We look forward to building on our relationship with both edp and Giro. We have been working together to increase the benefits for our members," Hancock said.
In addition to the major partnership, edp has signed on as major sponsor of Citrus Australia's 2022 Market Outlook Forum. It will be the third time edp has been the major sponsor of the biennialevent.
Ray Thrum, general manager of edp, said the company has proudly supplied manufactured and packaging turnkey solutions to its citrus customers for over a decade.
"We are committed to sharing this knowledge in a very practical way to assist the continued growth of this industry and its growers," Thrum said.
"As part of this, edp and Giro will produce a biannual magazine featuring the latest information on best global practices in sustainability, technology and new machinery, exclusively for Citrus Australia members. It is part of our goal to raise awareness of existing opportunities beyond our border."
Thrum said the partnership would facilitate some new business development opportunities for Citrus Australia members moving forward.
"Edp and Giro will work with Citrus Australia, Covid-19 permitting, to hold a grower tour to Spain in 2022, and fund the trip of one citrus grower. The tour will visit Giro facilities and major Spanish citrus businesses, led by edp business development manager, Mick Schirmer," Thrum explained.
"We look forward to continuing our relationship with Citrus Australia and its members."