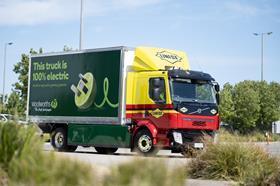 Linfox's first refrigerated electric vehicle (EV) has joined the Woolworths Group's fleet to deliver fresh produce to stores in metropolitan Melbourne.
The Volvo FL Electric will transport fresh produce daily from the Melbourne fresh food distribution centre operated by Woolworths's supply chain arm, Primary Connect.
Just one of two Volvo FL Electrics in Australia and 75 released globally, it is the only Volvo FL electric vehicle in Australia to be fitted with refrigeration. The jointly branded vehicle can deliver up to eight pallets of produce to Woolworths supermarkets at a time.
Acting managing director of Primary Connect and chief supply chain officer of Woolworths Group, Chris Brooks, said Linfox had been on the Group's EV journey since 2018 and both companies shared a commitment to sustainability.
"From the products in our supermarkets to the trucks that deliver them, we know the changes we make to become more sustainable today will create a better tomorrow for generations to come," said Brooks.
"We're excited to deepen our investment in electric vehicles in partnership with Linfox, as we pave the way for a greener next-generation supply chain. We supply more than 1,000 supermarkets across the country, and the ongoing development of heavy electric trucks represents an opportunity for us to drive positive change on Australia's roads.
"We will be watching the results of this trial closely with Linfox to understand how electric trucks can support our shift to a low carbon future in the years ahead."