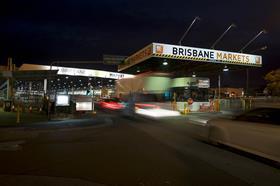 Flooding has stopped trade at the Brisbane Produce Market.
Heavy rainfall over the past week has caused havoc across South-East Queensland, with rising floodwater prompting closures and evacuations across the region.
Flooding at the wholesale market's Rocklea site peaked at approximatelyeight metres(AHD) over the weekend, according to the market's manager Brisbane Markets Limited (BML). The water covered the produce market's central trading area and cut off access to the site.
"Due to flood levels at the Brisbane Markets and the closure of road access to the site, BML asks that you do not attempt to access the Brisbane Markets until further notice," BML said via an update on its website.
"BML personnel on site have observed that flood water has peaked, but more peaks are expected."
BML has a team on site to ensure critical services and infrastructure can be reinstated once floodwaters subside. An preliminary evaluation of damage has commenced.