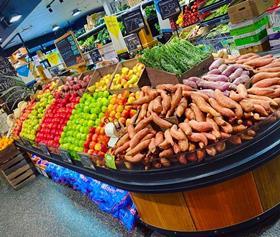 South Australia's largest independent supermarket chain, Foodland, has unveiled a five-year plan to open 25 new stores, revamp 47 of its existing stores – including 30 in regional locations - and create 2,500 new retail jobs in the state.
The move equates to a A$215m investment in the state's retail sector and is expected to create a further 500 construction jobs through the building of new supermarkets.
Speaking to Adelaide's The Advertiser, Foodland's newly installed chief executive Franklin dos Santos would not confirm where the new stores would be located, but said negotiations were well advanced in securing a mix of metropolitan and regional sites across the state.
"We normally open an average of three to four stores a year but we're accelerating that due to things like major infrastructure works, including the government's investment in roads, and population movement around South Australia," he said.
"It's a huge investment in the state which will create thousands of jobs and shows there's real belief that South Australia is a good state to do business in.
"And importantly it's going to mean that South Australian producers get a fair go in South Australia, which is what Foodland is famous for," added dos Santos.
Foodland currently employs more than 6,000 staff across its 95 stores in South Australia. These stores are owned and operated by 35 independent groups including the Romeo, Chapley and Klose families.
Dos Santos said the new and refurbished stores would draw inspiration from the success of award-winning stores located in Frewville and Pasadena. The Frewville store was named World's Best Supermarket in 2016.
"The supermarkets we're starting to see - not only due to Covid-19 but also the shift in trends - is more of a market-style store," dos Santos told The Advertiser.
"Whether that's ready-made meals, or what people have traditionally called gourmet becoming mainstream, shoppers have become more sophisticated and we're at the forefront of that.
"We offer a different shopping experience to the chains; we've become a destination in local communities. If you look at stores like Frewville, Pasadena, Norwood - they offer a different type of ambience and ambience is king," he added.
The launch of Foodland's five-year growth plan coincides with the opening of a new A$80m distribution centre developed by the group's supplier, Metcash.
The state-of-the-art Gepps Cross facility started distributing perishable produce to Foodland stores across the state last week and will soon process other groceries for the network.
"It means more frozen goods, more dairy and more perishables than we've ever had before," explained dos Santos.
"It also provides another opportunity for South Australian producers to access our stores through the distribution centre supply chain mechanism and ensures the viability of stores for years to come."