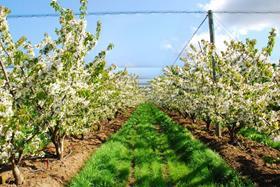 The Tasmanian state government has congratulated Fruit Growers Tasmania (FGT), the peak body representing Tasmania fruit producers, following news it has secured a Commonwealth Government grant of A$460,000 to help create an agrifood export hub in Tasmania.
The funding, through the small and medium enterprises initiative, will assist Tasmanian producers of fruit, nuts, vegetables, salad greens and other horticultural products, build on Tasmania's brand and strong export culture.
The commonwealth funding complements A$550,000 in state government funding provided to FGT for horticulture market and trade development initiatives.
FGT will work with other industry groups and agribusiness to leverage new collaborative market and export opportunities, as well as driving increased trade, value and farm productivity.
In a release, the Tasmania state government reaffirmed its support for the state's producers, noting the disruption to trade worldwide due to Covid-19.
An initiative of the Tasmanian trade strategy will also see a series of webinars held to assist exporters in gaining first-hand market knowledge, global trade insights and export information in the face of Covid-19.
Tasmania's state government has a plan to grow the farm gate value of Tasmania's agricultural sector to A$10bn per annum by 2050.