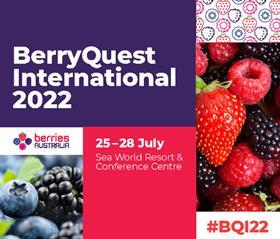 BerryQuest International 2022, the largest conference and trade exhibition for the Australian berry industry, will be held on Queensland's Gold Coast from 25 to 28 July 2022
Berries Australia chair, Peter McPherson, said hundreds of local and international berry growers and industry experts will converge on the Gold Coast for what promises to be an exciting three days.
"BerryQuest International 2022 will be an opportunity for our berry community to come together to support one another and to share recent learnings, as well as showcase the latest innovations including growing techniques, research, packaging, export development, biosecurity, labour and marketing," McPherson said.
Australia is a leading global berry producer, growing strawberries, blueberries, raspberries, and blackberries. The industry has a combined annual value of more than A$1bn, with over 700 berry growers.
Tickets to BerryQuest International 2022 are on sale via the event's official website. The first 200 delegates to secure their spot will receive a free breakfast and tour of Sea World's Shark Bay.