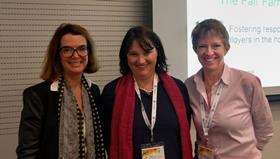 Queensland's peak representative body for horticulture, Growcom, has launched a programme to inform consumers and growers about the importance of fair workplace relations.
The Fair Farms Initiative was launched at the Hort Connections trade show and conference in Adelaide on 17 May.
As part of Growcom's Hort360 Workplace Relations best management practice, Fair Farms will include targeted seminars and a voluntary third-party 'Audited Certification' through Freshcare that will allow growers to demonstrate their compliance with fair work practices.
"Fair Farms Initiative is being rolled out nationally with the aim to help restore both consumer and public confidence in the horticulture sector's labour practices," said Growcom chief advocate Rachel MacKenzie.
"Consumers and the wider public are calling out something that guarantees an ethical approach to workplace relations on our farms. Fair Farms will deliver exactly that.
"Growcom is determined to work with farmers, the government and consumers to deliver the same high standard in workplace practices that we have come to expect from our products."