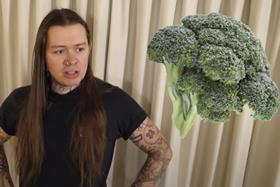 Queensland horticulture bodyGrowcom is collaborating with internet sensation Nat's What I Reckon on its Eat Yourself to Health campaign.
With the tagline 'eat up, and branch out', Eat Yourself to Health encouragesAustralians to increase their consumption of fresh fruit,vegetablesand nuts.
"Looking after our health has never been more important as we find our way through this Covid-19 pandemic, which is why we are encouraging all Australia's to 'eat up, and branch out,'said Growcom'smanager of policy and advocacy, Richard Shannon.

"We look forward tobringing the Australian public some fantastic contentthrough this collaborationas we work to establishreal dietary behaviour changes among Australians well beyond Covid-19."
ShannonsaidNat'sWhat IReckon, who has over 250,000 YouTube followers, is a perfect match for the national campaign.
Nat drew attention earlier this year when he declared war on packaged food after fresh produce was left on supermarket shelves during Covid-19 panic buying. Via a series of social media posts, he has been challenging people to cook with more fresh produce.
"We're super happy to be working with the champions at Growcom to try to encourage people to eat more fruit, veggies and nuts – it's bloody good gear, so I reckon get it intoya,' Nat said.

Since the initial launch of the campaign, consumers have been connecting via Facebook and Instagram and branching out by cooking with a wide variety of produce.
A website hasalsobeen established with a variety of resources and information for consumers on how to boost their health through increased intake of fruits, vegetables, and nuts.
TheEat Yourself to Healthcampaignis funded by the Queensland government.