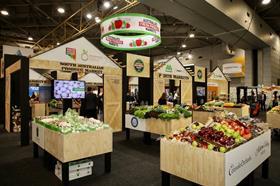 Hort Connections 2022 attendees can expect a "suite of improvements" at this year's event, thanks to the backing of Australia's Fresh Produce Markets.
A collaboration between Fresh Markets Australia (FMA) and the Central Markets Association of Australia (CMAA), Australia's Fresh Produce Markets has signed on as the trade show sponsor for the event, taking place at the Brisbane Convention and Exhibition Centre on 6-8 June.
Ausveg national marketing manager, Nathan McIntyre, said the sponsorship would help the event reach a wider number of industry members.
"We are thrilled that the FMA and CMAA collaboration has continued its support of Hort Connections as the naming rights sponsor for the trade show," said McIntyre.
"The sponsorship and major presence within the trade show has been a focal point for many years and the organisation represents a large and critical sector of the horticulture industry.
"The support has allowed us to progress with a suite of improvements for this year's conference, with considerable development and investment in the market area within the trade show."
McIntyre said there would be a strong emphasis on enabling networking opportunities for all delegates at this year's event.
"Aside from improved check-in and registration systems, delegates can make the most of more dedicated trade show time, a revamped trade show floor plan to allow for greater networking and delegate interaction, as well as a Diversity and Inclusion session and Women in Horticulture sessions for the 2022 programme," McIntyre explained.
FMA chairman Shane Schnitzler said Hort Connections would provide an important opportunity to meet with friends, colleagues and clients from across the sector.
"Following a successful conference last year in Brisbane, despite the disruptions from the pandemic, Hort Connections 2022 will be a true celebration for what the industry has achieved and how growers, central markets and the broader supply chain have banded together to ensure continuous supply of fruits and vegetables in the face of unprecedented challenges," Schnitzler said.
"We are proud to continue supporting the industry through the sponsorship of the Hort Connections trade show and encourage as many people from across the supply chain to attend to learn about the latest innovations and technologies in the industry, and to connect over the challenges everyone has faced, which in many respects have made the industry even more resilient."
The Hort Connections team is working with people on-the-ground at the Brisbane Convention and Exhibition Centre and in the wider Brisbane community to ensure the experience for delegates is safe and enjoyable.