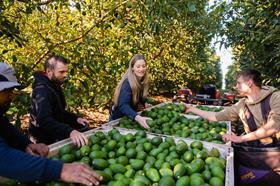 The Delroy family in Pemberton, Western Australia are expecting to pick 50m of their Delcado branded avocados this season, with the abundance of fruit leading the grower to open new domestic markets.
Introduced last year, Delcado is a premium Hass avocado that's 'slow-grown', with fruit tested for oil content prior to harvest. Infrared technology is also used to ensure the quality of the fruit.
Delcado has quickly earned a legion of fans across the Australian market, with the fruit selling out in its debut season. With up to six times more fruit available this harvest, Delroy Orchards business development manager Robbie Delroy is confident they'll continue to win over consumers.
"We've had great support from our retail partners who are keen to get Delcados back on shelves," said Delroy. "With the bigger volumes and expanded retail agreements, we will be able to introduce Delcados to new markets, such as Queensland, and maintain a steady supply of high-quality fruit from September through February - extending the season by two months.
"This will keep Aussie-grown Delcados on shelves all summer, filling the supply gap at a time when many other Hass avocados in store are imported from New Zealand, and more recently Chile."
The abundance of Delcados is the result of perfect weather conditions and careful planning by the Delroy family. Years back, recognising Australia's increasing appetite for avocados, the family got planting.
"All the elements came together – weather, more trees, plenty of hard work by the whole team and lots of TLC," explained Delroy Orchards farm manager, Suzie Delroy.
"Avocado trees naturally can have irregular cropping and last season was the lowest crop in 30 years, for WA. These low crops are often followed by heavy fruiting, as is the case this year. In fact, across the state, WA is on track to have nearly four times as much fruit this year.
"The orchard is incredibly healthy, and our avocado trees are full of nutrients producing a blanket of blossoms last spring and ample fruit by winter, which were big enough to withstand storms and benefit from this year's drenching rains.
"As well as ideal conditions, about 80,000 trees, which we planted five years ago, have started bearing fruit, topping up the harvest and helping us to keep up with demand."
Increased marketing efforts
Robbie Delroy outlined there would be a significant increase in marketing investment this season,in order to support the bumper crop and to continue building awareness of Delcados among Australians.
"Our launch last year attracted a lot of attention, quickly establishing the brand and generating unprompted levels of brand recognition well beyond our expectations. By the end of the season the Delacdo had the highest awareness among commercial avocados brands in Australia," he explained.
"This year's campaign will continue to build on provenance and the unique slow-grown taste difference of Delcado - all with a bit of Aussie humour. We're bringing back the much-loved characters Gary and Nate and this time things get a little quirky in the lengths they'll go to look after a slow-grown Delcado."
The Delroys teamed up with Reservoir Partners on last year's launch and the three-year strategic marketing programme.
This season includes a major integrated brand campaign with two new commercials on television and digital channels, a major out-of-home retail campaign, public relations and social media, and collaborations with leading Australian chefs Mark Best and Tom Walton.
Delcados will be available from September to February at Coles, Woolworths and Aldi supermarkets in New South Wales, Victoria, South Australia and Western Australia; as well as Harris Farm Markets in New South Wales and Bunbury Farmers Markets in Western Australia. In the Australian Capital Territory, Delcados are available at Coles, Woolworths and select green grocers.
This is the first year Delcados will be available in Queensland with shoppers able to find them at Harris Farm Markets and select green grocers.