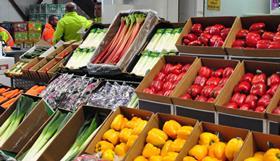 Fresh produce wholesaler In2Food Australia has been bought by Produce Republic after the former entered administration in August 2021.
Melbourne-based Produce Republic, owner of food processing brands including Yarra Valley-based frozen fruit supplier Aussie Frozen Fruit, announced the acquisition following a competitive bidding process.
In2Food Australia was formed in January 2018, bringing together fresh produce wholesalers T&F All States, Yarra Valley Farms and Brizfresh in addition to the Inspired Food Solutions Food production facility in Sydney and S&B (Herb and Spice) Merchants.
In2Food sources fresh fruit and vegetables directly from growers and produce markets and prepares the produce for customers including hotels, the restaurant and catering industry, health and aged care facilities, and food manufacturers.
The group operates a network of ten storage, distribution and packaging facilities throughout Australia and a fleet of more than 100 trucks.
Produce Republic successfully bid for the In2Food business in a process overseen by consulting firm FTI Consulting, who were appointed Receivers of In2food.
Produce Republic's managing director, Brett Jackson, said Produce Republic was well placed to return In2Food to profitable growth as Australia emerged from the disruption of Covid-19 and lockdowns, preserving a valuable supply outlet for produce growers and more than 400 jobs in the process.
"We're excited by the potential of a recapitalised and revitalised In2Food. While the business was adversely affected by Covid-19 it has outstanding fundamentals, with established supply relationships with local growers, a diverse customer base, loyal employees and an integrated national footprint. In2Food is uniquely placed to service both locally and at national scale," Jackson said.
"One of our first priorities will be to re-engage with the vast network of growers who have supplied In2Food previously. Produce Republic is led by people who understand growers and their concerns. Our commitment is to partner closely with growers as we gear up to meet the surge in demand from customer segments like airlines, restaurants and catering as our economies open up.
"Our purchase of In2Food secures more than 400 jobs and we expect it will also lead to expanded sourcing and supply arrangements with In2Food's loyal suppliers and customers over the long term,' Jackson added.
Speaking with News Corp, Vaughan Strawbridge of FTI Consulting said the business had continued to serve its customers during the process.
"The In2food team has shown their resilience by continuing to provide excellent service to their customers while managing Covid-19 and being in receivership," said Strawbridge.
"Our receivership saw us make necessary changes in the business, cutting the ready-to-eat meals from the product mix after the ready-to-eat meals key customer announced earlier this year they were withdrawing from the segment.
"In2food had made a significant investment into that part of the business, which together with Covid-19 contributed to its financial difficulties."