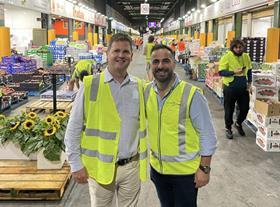 Australianfresh produce company In2Foodhasacquired MD Provodores, a leading Sydney-based supplier of fruit and vegetables.
The acquisition will see In2Food, part of the Produce Republic group, become one of the largest suppliers of fresh and processed produce to the hotel, restaurant and café (HoReCa) market in Sydney.
Based at Sydney Markets, MD Provodores supplies over 550 venues across the New South Wales capital with fresh and pre-cut fruit and vegetables. Its wholly-owned subsidiary Slice + Dice specialises in the pre-cut trade.
The deal includes a state-of-the-art processing facility operated by MD Provodores in Western Sydney.
Key members of the MD Provodores executive leadership team, including founder and director Mouhamad Dib, will join the leadership team of In2Food.
"Our purchase ofMD Provodores brings two strong food companies together," saidIn2food managing director, Brett Jackson. "The combined company will position In2Food as theleading supplier to the HoReCa market in New South Wales and strengthen our position as the pre-eminent national player in the sector.
"In2Food's state-of-the-art processing facilities, expansive reach and direct-from-farm approach, enhanced by MD Provodores' local experience, diverse customer base and processing operations will make for a formidable force in a competitive market."
The acquisition was completed on 11 April and facilitated by Remagen Capital.
In2Food's network now comprises of closeto 500 employees, in excess of 110 trucks, and a facility in every Australian capital city excluding Hobart. It services more than 5,000 customers nationally.