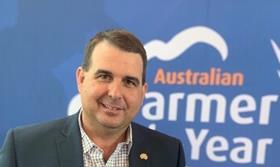 Mango grower and chairman of the Australian Mango Industry Association (AMIA), Ben Martin, has been awarded the ABC Rural and Kondinin Group 2019 Young Farmer of the Year.
Martin received the honour at Australian Farmer of the Year Awards, which is designed to celebrate outstanding achievements those making a significant contribution to Australian agriculture.
Martin said he was honoured to win the award and to be recognised for his work on-farm and in the industry.
"I think it is hugely important to give back to both my community and the mango industry and I hope that through the work I do, including as chairman of the AMIA Board, this ensures the industry continues to grow," said Martin.
"I also need to thank my family for all the work they've put in to making the business what it is today."
In addition to running his role in his business Marto's Mangoes in Bowen, Queensland, Martin is a strong advocate for the industry's sustainability.
Recently he attended a trade mission to Japan and South Korea where he participated in discussions about growing export markets.
"Getting the opportunity to participate in discussions with ministers and trying to share the vision of the industry's potential for growth is extremely rewarding," said Ben.
Robert Gray, chief executive of AMIA, congratulated Ben on his award win.
"This award is testament to Ben's hard work and dedication to the Australian mango industry. He should be extremely proud of what he has achieved,' Gray said.