Charity auction celebrating the start of the mango season won by Megafresh owner Domenico Casagrande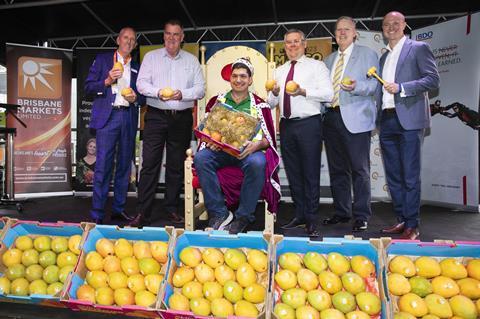 Queensland has crowned a new mango monarch at the 2023 Brisbane Markets Mango Auction, with Domenico Casagrande taking the title of Mango King with his A$40,000 bid.
Owner of Megafresh stores in Carina and Chandler, Casagrande won the day after a fierce bidding war with rival would-be-kings to secure his third Mango King title, after previously being crowned in 2018 and 2021.
"Everyone loves mangoes, and the whole Brisbane Markets comes alive for the start of mango season," said Casagrande.
"But really, it's all about supporting the community. We all need to put our hands up to help when we can and there are a lot of Queenslanders doing it tough right now, so it's good to give back."
Proceeds from the 2023 Brisbane Markets Mango Auction benefit Redkite, which provides practical, financial, and mental health support to families who have a child with cancer, and The Lady Musgrave Trust, which provides practical solutions that save lives and transition young women who are homeless or at risk of homelessness to a life of opportunity and prosperity.
As to whether this is Casagrande's last stint at Mango king, he didn't rule out another future challenge for the title.
"It's a great event to be a part of and our customers really get a kick out of it, so never say never," Casagrande said.
The coveted first symbolic tray of mangoes for the season entered the event space in style, chauffeured in a yellow Maserati Ghibli Trofeo MC Editon by former Brisbane Broncos player, Matt Gillett.
Gillett then took to the stage to compete in a mango-and-spoon race against federal minister for agriculture, drought and emergency management, Murray Watt, and Queensland minister for agricultural industry development and fisheries, Mark Furner.
A slate of other auction items and activities drove 2023's Mango Auction fundraising total to more than $64,000, a result welcomed by Brisbane Markets Limited chair, Anthony Kelly.
"The Mango auction is an iconic event for the markets and for Queensland," said Kelly.
"I am humbled by the generosity of the Brisbane Markets community in support of two very worthy charities who do a lot of good to help Queenslanders in need."