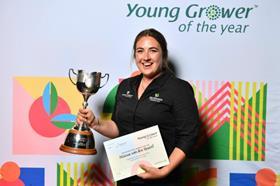 Melissa van den Heuvel has been namedHorticulture New Zealand's Young Grower of the Year for 2021.
Van den Heuvel is an avocado grower services representative at Apata Group based in the Bay of Plenty and said she was passionate about woking in the industry.
"I am very proud to be in this industry. It is something I am very passionate about. What we produce is very top notch,' said van den Heuvel.
"It was great to be part of this competition and get to know my fellow competitors. We'd all like to thank the sponsors and HortNZ for giving us this opportunity."
Barry O'Neil, president of HortNZ, said supporting young people and encouraging more of them to join our industry is critical to the industry's continued success and growth, in what is the new normal – life affected by Covid.
"At times like these, having a cause and taking time out to celebrate it is even more important than it was before," said O'Neil.
"This year's regional finals were oversubscribed, which shows the inherent optimism in our industry as well as the pride inherent in providing New Zealand and the world with tasty and healthy, fruit and vegetables."
.