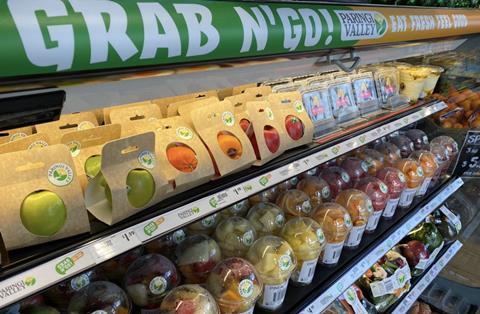 It's never been easier for Australian motorists to get a healthy dose of fresh produce thanks to a new campaign from Paringi Valley, a consumer-facing brand wholly owned by Sydney-based A&M Kazzi and Sons.
The 'Grab n' Go' campaign – which sees a range of fresh produce products merchandised in and around refrigerated display units – has been launched in collaboration with multiple service station franchisees across metropolitan Sydney and the Blue Mountains.
The offering consists of both whole and fresh-cut fruits, along with snacking vegetables.
"Service stations have always been a convenient outlet for a snack when out on the road," said Mark Romeo, commercial director of Paringi Valley.
"Although we have seen an increase in healthier alternatives to the traditional high-salt, high-sugar snack, the availability of fresh options has been limited. Paringi Valley aims to provide fresh and healthy snacks that are convenient and readily available."
Paringi Valley is also trialling a range of pre-prepared vegetable and salad packs under the 'Dinner Sorted?' campaign in selected service stations.
"These have been marketed in service station locations with a higher population density, which also act as local convenience stores," said Romeo.