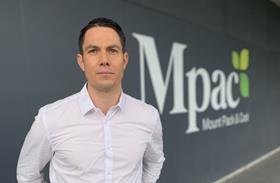 New Zealand's Mount Pack & Cool has unveiled plans to increase its packing and storage capacity.
The privately-owned kiwifruit packer will start work in January on a fourth stage development of its 6.5ha site in Tauranga.
When complete, Mount Pack & Cool will operate the largest individual post-harvest site in New Zealand, with the capacity to handle 24m trays of Class 1 kiwifruit annually by 2022.
The company has been operating at the site, located in the Tauriko Business Estate, since May 2018. It packs kiwifruit for growers across the Bay of Plenty.
Brendon Lee, general manager of Mount Pack & Cool, said the need to expand reflected the industry's and Zespri's positive market outlook, along with growers' confidence in the company's ability to deliver strong returns year-after-year.
"Growers can see we have an amazing facility and our results speak for themselves," Lee explained. "As growers are also increasing production volumes on orchards, they're looking to partner with us because they cansee we've future-proofed for growth and greater capacity, which is critical for them at harvest time."
Read more about Mount Pack & Cool's expansion plans in the upcoming Summer edition of Produce Plus.