Just one month left to enter Australasia's premier fresh produce marketing award
Have you seen a great example of fresh produce or floral marketing? Don't miss your chance to nominate that campaign – and the talent behind it – for the 2023 IFPA-Produce Plus Marketer of the Year Award (MOYA), sponsored by Seeka.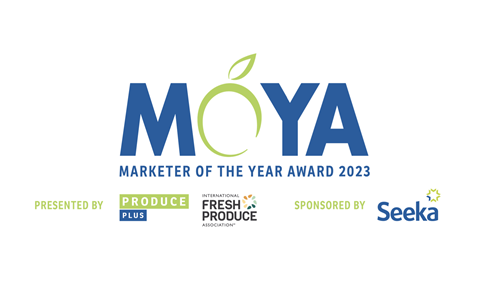 With entries closing in late April, now is the perfect time to nominate any individual or marketing team who has achieved marketing excellence over the last 12 months, no matter which part of the value chain they represent.
The prestigious award is judged on each marketer's ability to develop and execute a highly visible, effective campaign.
Five finalists will be selected from the field of entries. Successful nominees will succinctly explain how they created a path-to-purchase, then support their entry with validated evidence of the campaign's reach and success in converting the target audience into customers.
The finalists will have the opportunity to present their respective entries at a showcase event at Hort Connections in Adelaide on 5-7 June 2023, with the winner to be announced at the event's gala dinner.
Now in its ninth year, the International Fresh Produce Association Australia-New Zealand (IFPA A-NZ) and Produce Plus Magazine are pleased to have Seeka onboard as the sponsor of MOYA in 2023. Seeka is diversified horticulture business with operations in both Australia and New Zealand.
Produce Plus Magazine's Winter edition will include a full preview of the five finalists vying for this year's award.
Self-nominations and nominations by third parties are welcome and must be received by 28 April 2023.
To submit a nomination click HERE or follow the tabs under the 'Awards' page on the Hort Connections website. Be sure to select the IFPA-Produce Plus Marketer of the Year Award from the 'Awards List' when submitting your entry.
For more information, contact Produce Plus editor Matthew Jones - matthew@fruitnet.com