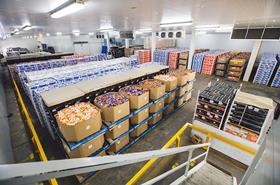 LRT/VCT Refrigerated Transport's new A$1.75m fruit warehouse and cold storage facility near Mildura, Victoria has officially been opened, with the facilities expected to boost horticulture exports by an estimated A$20m.
The new facilities, supported by the Victorian state government's Regional Jobs and Infrastructure Fund, include a warehouse, loading bays, an office, cool rooms, a cold treatment space and refrigeration.
Up to 100 local fruit-growers across the region are expected to benefit, with the development allowing them to to treat fresh produce before it is exported.
Victorian minister for regional development, Jaclyn Symes, said the build of a new warehouse and cold storage facilities is another example of how the state government is supporting industries across regional Victoria
"This investment is great news for workers in the Mildura region involved in exporting fresh produce, as well as Australians who will be able to enjoy more fresh produce from regional Victoria," said Symes.
Enjoyed this free article from Produce Plus and its team of editors? Don't miss out on even more in-depth analysis, plus all the latest news from the fresh produce business. Subscribe now to Produce Plus Magazine.