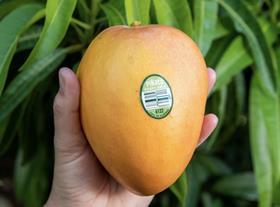 Honey Gold mango producer Piñata Farms has launched a major marketing campaign encouraging Australian consumers to 'trust' the expertise of growers behind the brand.
The campaign will include billboard advertising in high traffic areas of Sydney and Melbourne in the lead-up to the season's peak later this month. It follows on from the launch of refreshed branding for Honey Gold last season.
Honey Gold mangoes are currently produced in the Northern Territory, Queensland, New South Wales, Victoria and Western Australia at Piñata's own farms and that of some 30 contracted growers.
"We're asking consumers to 'trust us, we grew it'," said Piñata Farms managing director Gavin Scurr. "Our growers use the latest techniques and technologies combined with tried and tested practices honed through years of experience to produce Honey Golds.
'We want consumers to know that our growers put a lot of dedication, love and care into producing fantastic-tasting mangoes and are totally committed to excellence in everything they do throughout the supply chain.
"They're prepared to invest in the brand by expanding plantings, implementing the latest equipment and are eager adopters of technology – if it enhances the quality of our mangoes.'
Australia's Honey Gold harvest began in Darwin in early November. The Queensland harvest got underway in late December, with fruit to continue being picked until March.