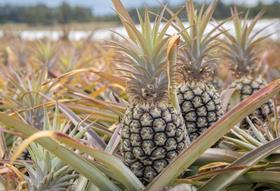 A ten-year strategic plan for Queensland's fresh produce sector and supply chain will begin taking shape this month.
Growcom – a representative body for Queensland's fruit, vegetable and nut growers – has been tasked with guiding the development of the plan, to be calledFuture Fields.
An advisory committee made up of industry leaders willassemble in early December to start work on the project.
At the top of the agenda will be digesting key insights fromthe recent Future Fields Summit, along with regional workshops held around the state.
Growcom chief executive Stephen Barnard said the level of interest and engagement from a wide range of interested parties had delivered a mix of opportunities, ideas, issues and challenges.
'A key role the advisory committee will play early on, with all of this input, is helping us divine where we have the best windows ofopportunity, through collaboration,to make meaningful, long-term impact. These will be the future fields we'll ultimately focus on in the strategic plan,' said Barnard.
'We're excited for the advisory committee to come together and look forward to working with them.'
Members of the advisory committee include Liz Alexander and John Corbett of the Queensland Rural and Industry Development Authority, Fabian Carniel of Mulgowie Farming Company, Sarah Corcoran of Plant Health Australia, Angus Ferrierof Rosemary Hill Orchard, Bob Gee of the Queensland Department of Agriculture and Fisheries, Emma Greenhatch of Food and Agribusiness Network, Tony Kelly of Brisbane MarketsLimited, Ben Martin of Marto's Mangoes, Neena Mitter of QAAFI Centre for Horticultural Science, Debbie Smith of Master Grocers Australia and Growcom chair Belinda Frentz.
Frentz said the calibre of her fellow committee members, and thecommitment to Future Fields from the highest levels of industry and government, would ensurethe strategic plan addresses long-standing challenges and future opportunities for the sector.
'We know to be successful Future Fields must be owned by all stakeholders with a role to play in bringing its vision to life, including growers, their suppliers, their buyers, government agencies, and those in research, banking, insurance, logistics, marketing and processing,' said Frentz.
'We're especially pleased to have experts and leaders from across the full scope of the fresh produce supply chain on the advisory committee, guiding our thinking and focus, and drawing in key players who are in a position to take the actions required.'