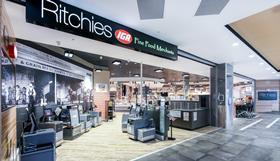 Metcash, the owner of IGA and Foodland, will not have to purchase Ritchies Stores despite it meeting financial hurdles for the first time in a decade, following a surge in sales during the coronavirus (Covid-19) pandemic.
In a report published by the Australian Financial Review (AFR), Metcash – which owns a 26 per cent stake in Ritchies – has been spared having to pay at least A$150m to buy out chief executive Fred Harrison, chief financial officer Mal Cameron and 19 other minority shareholders, after Ritchies said it would not exercise an option to sell to Metcash.
Harrison said the major shareholders had no immediate plans to sell, even though Ritchies would easily beat the financial hurdles in the option agreement.
'We have achieved those numbers before, going back 10 years, and we never ran off and put the business to them [and] it's certainly not our intent here and now to put the business to Metcash,' Harrison told AFR.
'The directors are committed to their roles in running the business for the foreseeable future,' he explained.
The presence of the put option triggered speculation among Metcash shareholders after the food, liquor and hardware wholesaler had to point out the potential liability when it raised A$330m in April.
Metcash said if Ritchies had achieved the financial hurdle last year it would have cost between A$140m and A$155m to buy out the 74 per cent of Ritchies it does not own.
The cost would be even higher this year, as sales at Ritchies' 75 stores in Victoria, NSW and Queensland soared 50 per cent in March and by more than 20 per cent in April, May and June as more shoppers switched to neighbourhood stores.
Ritchies earned about A$21m before interest and tax on sales of A$1.25bn in 2019, according to company accounts. The hurdle is believed to be based on EBIT margins exceeding 2 per cent of sales, which is likely to be achieved this year given strong operating leverage.
Harrison told AFR sales in the last few days had risen 25 per cent in Victoria as shoppers restocked their pantries ahead of another six weeks in lockdown.
'People aren't being silly and trying to buy every toilet roll and every can of baked beans on the shelf, but they are adding more to their basket,' he said.
Metcash chief executive Jeff Adams said there had been no indication from Harrison and Cameron they intended to exercise the option.
'Obviously they'll be having a good year this year, as most of our retailers are,' Adams explained.
If the option were exercised and Metcash bought out the remaining 74 per cent it could retain the stores or sell them off to independents.
'We'd have to see at the time .... we could run it but would we send some of them back to independents? That's a possibility,' Adams noted.
Under former long-serving chief executive Andrew Reitzer, Metcash was reluctant to compete against its independent retailer customers by owning retail stores.
But in recent years Metcash has taken over more than 100 retail stores, particularly after the acquisition of Home Timber & Hardware from Woolworths and uses them to test new concepts and strategies.
It also has a 26 per cent stake in Dramet, a joint venture between Metcash and Drakes, which owns about 15 food stores in Queensland.
Analysts believe retail is likely to become a bigger source of growth for Metcash in future years.