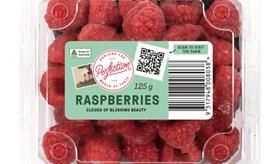 Perfection Fresh is trialling a consumer traceability and provenance discovery tool on its raspberries.
The tool is powered by FreshChain Systems, a fully integrated, blockchain enabled assurance system that enables traceability from paddock to plate.
The raspberries in the trial are being grown in specially designed berry tunnels in Caboolture, Queensland.
Luke Gibson, head of marketing at Perfection Fresh, said the tool on trial allows consumers to access more information about where their food comes from.
"Consumers are telling us that they want more than just the product, they are looking for an experience that connects them to the produce and growers, and to learn more about our world class produce," Gibson explained.
"Changes in consumer behaviour like universal QR code usage enables us to link our physical packs with digital environments, providing a unique opportunity to engage our consumers in a new way, in real time, sharing real insights with them by simply scanning a unique FreshChain QR code using any smartphone".
Greg Calvert, director of FreshChain Systems, said his company was pleased to support this initiative from Perfection Fresh.
"The digital world is upon us and there are some wonderful opportunities to engage in a whole new way," Calvert explained. "The ability, trust and scanning rates of QR codes is unprecedented and so it is just a matter of determining the level of value you want to extract from all things digital."
Calvert stressed the importance of using industry standards, like those provided by GS1, to ensure traceability systems can speak the same language.
"Our QR codes are serialised, unique and GS1 Digital Link enabled as we ready for the future of a single 2D QR barcode for checkouts and consumers," Calvert explained.
Gibson said FreshChain Systems' solution not only shared information about provenance with consumers but also initiated more two-way interactions by gathering insights on how consumers are responding to Perfection Fresh's products.


"Understanding consumer preferences helps us determine why people choose Perfection Fresh raspberries over another brand," Gibson explained.
"This QR code trial gives consumers an opportunity to rate our product, before and after eating and give us feedback on the whole experience."