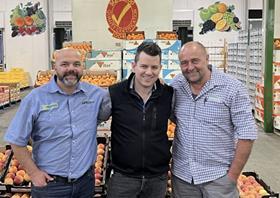 The Summer edition of Produce Plus Magazine is now available via the Produce Plus app.
Our cover story looks at how two strategic acquisitions are helping Sydney-based wholesaler Samson's Fruit and Vegetable Supply increase its market power.
We also take an exclusive look at P&C Automation's new head office and factory in Brisbane, which is providing the leading post-harvest equipment supplier with added capacity and capability.
Costa Group's consumer insights manager, Samrat Acharya, provides a fascinating insight into the power of consumer data, while regular guest columnist Lisa Cork outlines the 'Summit Strategies' – her coaching model for helping others become more intentional.
The high-level insights don't stop there, with Escavox's Luke Wood highlighting the value of maintaining visibility over fresh produce products as they pass through thesupply chain.
Plus, we have product features on a range of Summer favourites including mangoes, berries and stonefruit.
View the Summer edition via the Produce Plus app. Download the app onto your smartphone or tablet from the App Store or Google Play. It's free to download and enables you to scroll through Produce Plus' wide ranging and in-depth coverage of the key trends and developments in Australia and New Zealand's fast-moving fresh produce businesses.