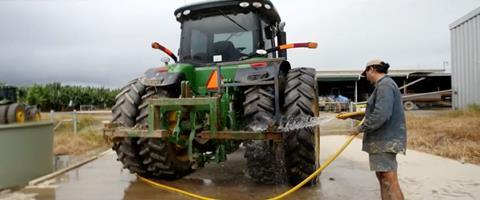 A vegetative compatibility group (VCG) test has confirmed the worst-case scenario for a banana farm in Tully Valley, Queensland - a positive result for Panama disease tropical race 4 (Panama TR4).
Biosecurity Queensland officials reported what they believed to be a case of Panama TR4 in early February, following a routine inspection carried out in January 2020.
This is the fourth confirmed case of the disease in Australia, since the disease was first detected in Queensland in 2015, with the previous detection confirmed in 2018.
'The VCG test is the 'gold standard' for identifying Panama TR4. The requirement for positive results from the two tests; the VCG and the DNA-based molecular test, ensures the accuracy of a positive final diagnosis,' explained Biosecurity Queensland chief biosecurity officer, Malcolm Letts.
Australian Banana Growers' Council chair, Stephen Lowe, praised the grower for their ongoing efforts at this difficult time.
"The confirmation of Panama TR4 on a fourth North Queensland banana farm is obviously extremely disappointing for the industry, and particularly for the grower concerned," said Lowe.
"We know our growers are incredibly resilient and, as an industry, we will continue to meet the challenges of Panama TR4. However, this confirmation is another reminder for growers to be vigilant and ensure they protect their farms and the broader industry at large."
In a release, Biosecurity Queensland stated, "All growers are urged to maintain their vigilance in the wake of this confirmed fourth detection of Panama TR4. On-farm biosecurity is the best way to protect a farm from PanamaTR4."
There are a number of preventative actions that can be taken to ensure on-farm biosecurity measures are working.
These include checking fences, installing signs and setting up footbaths for visitors and farm workers to use pre and post farm visit.
Biosecurity Queensland has also taken to the skies in an effort to combat the spread of the disease, deploying a number of drones that can inspect large areas of hard-to-access land.