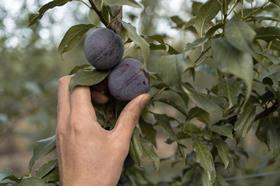 Nutrafruit has harvested the largest crop of Queen Garnet plums since commercial production began in 2014.
With the end of the season in sight, Nutrafruit, which holds the global licence to manage the production, marketing and processing of Queen Garnet, announced the record yield.
Fresh Queen Garnet plums, which have been shown to have a number of health benefits, will be available across Australia until the end of March.
However, Luke Couch, chief executive of Nutrafruit, said the company has developed a number of products to take advantage of what the plum has to offer out of season.
"More than just a fruit, we've made the Queen Garnet plum the star of our great wellbeing range," said Couch.
"Whether enjoyed fresh or from the packet, the plum's versatility and royal antioxidant status make for easy integration into the Australian diet and effortless nourishment for both body and soul."
To promote the benefits of the Queen Garnet plum year-round, Nutrafruit has created a plum nectar and freeze-dried plum powder.
The nectar can be consumed straight or mixed with other drinks and healthy options such as chia seed puddings and sorbets.
Meanwhile, the powered can be added to the likes of smoothies, protein balls, cereal and pancakes.