Apple growers from across Australia travel to Yarra Valley to learn about exciting new proprietary variety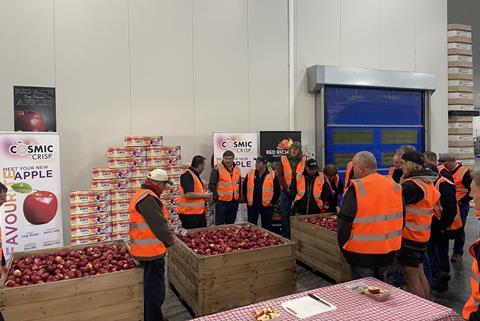 Australian grower-parker-marketer Red Rich Fruits has hosted more than 30 growers from across the country as part of a showcase event for the WA 38cv apple variety, branded as Cosmic Crisp.
The orchardists travelled to Red Rich Fruits' head office in Victoria's Yarra Valley to discuss growing techniques, marketing and the Australian roll out of the apple offering.
Australian production of the WA 38cv variety will scale up over the coming years, with an initial small crop ready in Autumn 2023, a commercial harvest in 2024 and a national supply programme in 2025.
More than 500,000 WA 38cv Cosmic Crisp trees will be planted across Australia over coming years.
The variety was developed by Washington State University over the course of 20 years. It is based on a hybrid of the Honeycrisp and Enterprise cultivars.
The proprietary offering was bred to have the texture and juiciness of Honeycrisp, and the late-ripening behaviour and long storage of Enterprise.
"Cosmic Crisp is characterised mainly by uniformly coloured dark red skin, dense firm flesh, and an improved shelf life," according to a release from Red Rich Fruits. "The look of the apple's light lenticels against its wine-red skin is reminiscent of a galaxy against a night sky, which led to the Cosmic Crisp naming."