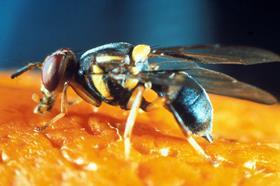 South Australia has implemented new rules for importing stonefruit from interstate in response to recent fruit fly detections.
Queensland fruit fly larvae were recently detected in fruit purchased at a metropolitan Adelaide supermarket from a consignment of peaches from a Victorian supplier which has now had its certification suspended.
Minister for Primary Industries and Regional Development David Basham said fruit entering South Australia from interstate from 1 April would no longer be accepted under the Interstate Certificate Assurance scheme (ICA-21) that was applied to this consignment.
"It is absolutely unacceptable that fruit fly larvae can find their way into South Australia via interstate commercial shipments," Basham said.
"The Victorian supplier was immediately suspended from exporting fruit into South Australia and the Marshall Liberal Government will now tighten requirements for all interstate stone fruit consignments."
Basham said the decision to no longer recognise ICA-21 for stonefruit would not impact blueberry supplies from New South Wales and Queensland as there have been no cases of larvae detected in commercial blueberries.
"Interstate farmers will be required to implement treatments such as fumigation or cold treatment before we can be assured it is safe to allow commercial stone fruit consignments to enter the state.
"The 1 April commencement date is necessary to allow supermarkets and supply chains time to adjust, however immediate suspensions will apply to any further interstate businesses found exporting fruit fly larvae to South Australia."