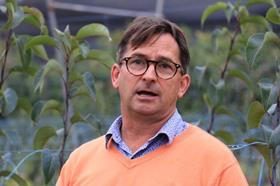 New variety and rootstock evaluations, importation quarantine management and tree certification services to industry formerly delivered by the Australian Pome Fruit Improvement Programme (APFIP), will now be delivered by APAL.
APAL and APFIP agreed in November 2020 that APAL will take over the delivery of the services and Tom Frankcomb, currently APFIP operations manager, has joined APAL as variety development manager.
Justin Smith, APAL's industry services manager said the new arrangements provide greater long-term certainty, remove the reliance on grower levies and coincide with APAL taking over management of the Future Orchards programme.
"Since its establishment in 1997, APFIP has provided our industry with independent evaluations of 219 apple and 90 pear cultivars through its variety evaluation trials and this program continues to grow," said Smith.
APFIP also implemented a certification system for rootstock and trees that enables growers to access new propagating material that is free from the most detrimental viruses, is true to type and meets prescribed standards.
"Our goal is to build on this strong legacy to create more frequent and timely engagement with growers through our Future Orchards programmes and communications," he added.
APAL will continue to deliver variety evaluations at sites across the country.
Tasmania-based variety development manager Tom Frankcomb has been in the operations manager role at APFIP since October 2018 and is a former Huon Valley grower, Marcus Oldham graduate and Nuffield scholar.
Frankcomb said he was excited by the new arrangements and the opportunity to deliver variety development services through APAL for Australian apple and pear growers.