Costa Group's citrus and table grape brand has represented premium quality for five decades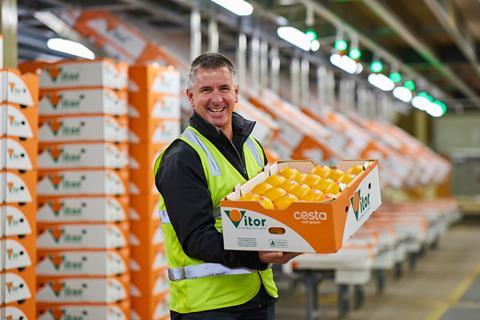 This year Costa Group is celebrating 50 years of its citrus and table grape brand Vitor, which has developed a global reputation for high quality Australian produce.
Vitor originated as a marketing company for growers in Renmark, South Australia. It transferred into Costa's ownership in 2006 and is now one of the company's premium brands for citrus and grape exports into key markets such as the US, Europe, Asia and the Middle East.
Elliot Jones, general manager of Costa's trees and vines category (incorporating citrus, grapes, avocados and bananas), says Vitor's success over 50 years is a testament to the passion and experience of the people involved in growing, packing and marketing the fruit.
"From the very beginning, the number one priority has always been to provide the highest quality produce," says Jones.
"Over the years we have established long-term relationships with all our stakeholders including importers, distributors, and retailers. We have maintained a strong focus on the end consumers' needs and requirements, particularly regarding quality."
The brand began as the Vitor Citrus Co-operative (Renmark), which was incorporated in 1972 with eight members. Its major shareholder was Yandilla Park, a company founded by Andrew Weigall.
The citrus operations at the heart of Vitor were established in the early 1970s and the first packhouse for Yandilla Park was built in 1972 on the outskirts of Renmark.
Weigall, who led the development of Yandilla Park, was driven by his passion for producing premium fruit. He was known for pioneering new techniques and innovative horticultural practices.
By 2002, Yandilla Park properties covered 765ha of planted citrus, 150ha of wine grapes and 51ha of avocados. A major upgrade to the packhouse was also opened. Since coming under Costa ownership, the Riverland operation has expanded to include six farms and three packhouses, growing oranges, mandarins as well as grapefruit, lemons, limes and avocados.
Throughout Vitor's 50-year history, innovation and a commitment to quality have remained cornerstones of the brand. These days, Costa also produces and exports table grapes to a range of Asian countries – including Indonesia, Japan, Vietnam and Korea – under the Vitor brand.
"Our competitive advantages in scale of supply, packing operation, genetics and our global network of customers and markets with leading B2B brands have helped us to achieve exceptional export results, particularly in the Asian markets," Jones says.
"We are continually looking at new varieties, to ensure we meet the need for current and future demand, and we are continuing to invest to drive higher levels of agronomic performance and optimisation in yield and quality.
"As we celebrate the past 50 years, we are also looking to the future and cementing our position as the leading individual citrus grower, packer and exporter in Australia."