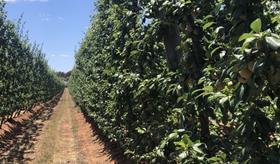 The Warakirri Farmland Fund has acquired two stonefruit orchards from Montague, leasing back the properties as part of its first investment in the stonefruit category.
The purchase of the Goulburn Valley and Cobram orchards will see the Fund become one of largest owners of modern, high-density, premium stone fruit orchards in Australia.
Under the 20-year lease partnership, Montague plans to expand its stonefruit production footprint to be one of the largest growers of premium plums, nectarines, apricots and peaches, building on its existing capability in this sector and market leading position in the apple category.
Steve Jarrott, portfolio manager of the Warakirri Farmland Fund was excited to partner with such and experienced fresh produce operator.
"We're delighted to commence the Fund with these high-quality foundation investments and in particular, the class and calibre of our initial tenant partner," said Jarrott.
"Montague have been growing fruit for three generations and are a business with an intense focus on quality, consistency and innovation in the horticulture industry – a great fit for the Warakirri Farmland Fund."
Scott Montague, managing director, shared his excitement with the Montague team and said: "The investment will allow all parties to accelerate their growth strategy and diversification of fruit grown".
The Warakirri Farmland Fund was launched in 2021 by Australian agriculture investment manager and operator Warakirri Asset Management. The Fund was developed specifically for domestic and offshore institutional investors, after securing significant seed funding from one of Europe's largest pension funds.