Italy has clearly always been a market that knows its tomatoes, but according to one of the country's leading fresh produce suppliers, the country's consumers are showing even more interest in the quality of the tomato varieties they buy, as well as placing greater emphasis on national provenance and year-round availability.
As a result, Italian fresh produce company Agrintesa, which is part of Europe's largest fruit and vegetable producer organisation Apo Conerpo, is investing heavily in new tomato varieties and hydroponic cultivation systems to strengthen its position not only at home but also on the European stage.
As it prepares to take part in leading Italian trade exhibition Macfrut 2017 in Rimini on 10-12 May, the company says a recently signed sourcing agreement means its marketing arm Alegra, including branded division Valfrutta Fresco and organic specialist Brio, are well placed to generate new interest and sales growth in the category.
According to the group, tomatoes are becoming an increasingly important product within its vegetable offer. Over the past year, it has seen the category become more profitable in Italy, with its supply base in Sicily boosted by a new partnership with Fresh Guru, a company whose Fri-El Greenhouse project in Crevalcore near Bologna offers year-round, hydroponic production of beefsteak, cherry, baby plum, cocktail and on-the-vine varieties. The facility places a huge emphasis on sustainability and claims to use 70 per cent less water and 70 per cent less space than standard, open-field methods.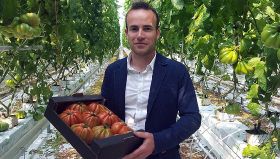 "We were looking for an intelligent and ecologically sustainable method of retaining the heat generated by our electrical and biogas systems and we are sure we have found it," comments the project's founders Florian (pictured), Anna and Daniela Gostner. "The tomatoes we grow inside these hi-tech greenhouses are abundant, healthy and excellent quality. In the cold season, they are heated with hot water generated by the adjacent power plant. In this way, we recover that precious energy and create a virtuous circle that is good for the environment and for our tomatoes."
For Alegra, the high quality and sustainability of the tomatoes available from Fri-El are enabling it to keep up with growing consumer and retailer demand for the best varieties all year round, sourced from within Italy itself.
Among the various varieties being grown at Fr-El to satisfy that demand is Silky PInk, a striking, deep pink tomato originating in the Far East and developed by the Dutch seed specialist Rijk Zwaan. Valfrutta Fresco, which holds the exclusive rights to market the brand in Italy, has begun to introduce the product to the Italian market through a series of consumer trials, with a view to widening availability in due course.