Three decades may not be much in corporate terms, but since its foundation in 1989 as a trader connecting growers with customers at Milan's fruit and vegetable wholesale market, Gala Fruit has become one of the city's largest fresh produce wholesalers. Now, as the family-run operation marks ten years since the passing of its founding father Giuseppe Catalano, it appears ready to take a major step forward by expanding its business outside of Italy, diversifying into new markets and securing new supply deals with customers in the retail and foodservice arenas.
"My father was originally selling products like asparagus, chicory and strawberries," explains Luigi Catalano (pictured below). "My brothers and I entered the business and we gradually expanded the range of goods on offer. We now source and sell around 200 different fruit and vegetable products, around 30-35 per cent of which are sold under our own Gala Fruit brand."
In their father's absence, the brothers decided to merge the four different stands they ran at the market to form Gala Fruit. "We had our first combined stand in 2012," Catalano recalls. "We were quite nervous about how things would go without 'the boss' but over the past five years we have done well and Gala now has four stands, plus a logistics platform from which we supply a good number of restaurants."
A year and a half ago, however, Catalano decided to begin writing a new chapter in the company's history. "I decided to stop working at the market and to focus instead on developing our planned supply, including overseas," he says. "We're seeing more demand for supply programmes, especially from supermarket chains; yes, it's true that they're going direct more and more [with their sourcing], but every retailer needs a shoulder to lean on and at Milan's wholesale market there are three or four big companies that are in a position to supply big volumes of various different products, especially those for which it isn't possible to go directly to the producer."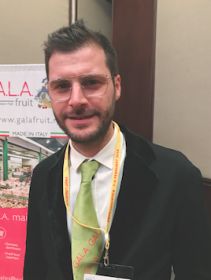 Until recently, all of Gala's exports were via third parties. Now, the time has apparently come for it to take a step further along the supply chain and go direct. "I'm developing direct contacts with Italian supermarkets and have begun working with a French retailer which is starting to open stores in Italy," Catalano reveals, adding that the group has already made good connections in places where more traditional, individual retailers as well as foodservice customers are prevalent, including London and Doha.
"I believe there are lots of customers out there who are looking for an Italian company that can supply them with everything as part of a mixed load, and arrange the transport too if necessary."
He continues: "We can offer a big supermarket chain individual products and allow them to handle it as they wish. However, what we are trying to do for example in London is to supply mixed loads containing whichever products they want – the entire A-Z of fresh produce – as part of the service. They can get 60-70 per cent of those products direct from our own stand and the rest we can arrange from other suppliers to complete the overall offer."