Founder Ridley Bell excited by ground-breaking R&D initiatives in 2023
Australian blueberry specialist Mountain Blue has intensified its research and development efforts this year, under the stewardship of owner and founder Ridley Bell, to develop new varieties to revolutionise the berry category.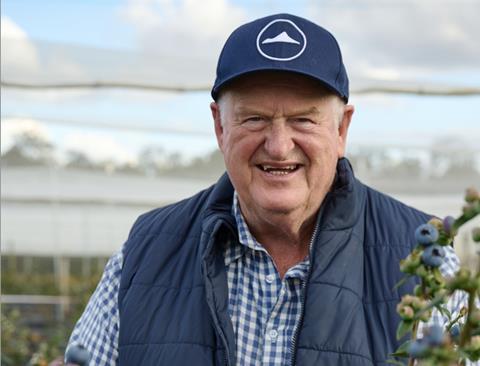 The company said its goal is to uncover and optimise genetic building blocks leading to the creation of extraordinary berry varieties that will delight consumers with exceptional flavour and size but also make cultivation and harvesting simpler for growers.
It described 2023 as its most promising year yet, with its dedicated team "making significant strides in identifying seedlings and selections with the potential to deliver outstanding results".
The company said it has received enthusiastic feedback from international licensees who have visited its farms.
David H Jackson of Family Tree Farms commented: "I have walked the new Mountain Blue blueberry seedlings for each of the last 13 years. The 2023 seedlings are the best overall I have seen. And that's saying a lot since many of Ridley's varieties are standards for the industry.
"Mountain Blue is known for flavour, crunch, and size as well as production, ease of harvest, self-pollinating and bloom also being the highest priority. The combination of all these qualities is what I found in the 2023 seedlings. I'm very encouraged by the Mountain Blue blueberry genetics, continuing the competitive edge with growers, retailers, and consumers".
Bell said the company had meticulously evaluated over 20,000 seedlings and numerous selections in the field. "Our team is consistently pushing the boundaries of our breeding work, raising the bar in various aspects. These quality enhancements will soon translate into new commercial berry varieties," he commented.
"We've identified distinct production windows throughout the season, ranging from very early to very late harvests. Our overarching objective is to develop berry candidates for each of these windows."
Mountain Blue said its research and development efforts are meticulously aligned with the needs of growers sand consumers, forging a fruitful partnership that will benefit all involved.
Bell's efforts have not gone unnoticed. He was recently honoured with the prestigious Duke Galletta Award by the North American Blueberry Council for his contributions to blueberry horticultural research. The award celebrates those who have demonstrated leadership and excellence in blueberry research, furthering the growth and development of the blueberry industry.
"I am deeply honoured to receive the Duke Galletta Award," Bell said. "This recognition is a testament to the dedication and hard work of the entire Mountain Blue team, and our relentless pursuit of excellence in blueberry research and farming practices."