GGN is a consumer label that stands for certified, responsible farming and transparency and is available across a range of fresh produce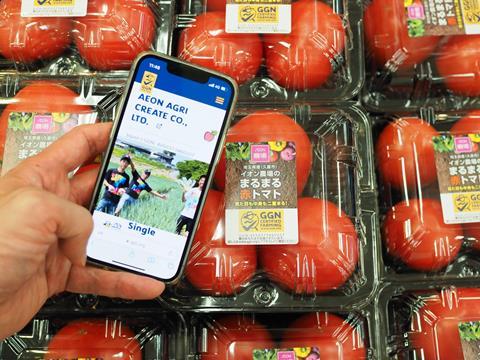 Aeon has revealed that it has rolled out the first products with the cross-category GGN label across a range of supermarkets in the Kantō and Kinki regions of Japan.
The retailer noted that products now available with the GGN label included tomatoes, aubergines, spinach, asparagus, cucumbers, and Japanese mustard spinach, with more to be added and the range of locations to be extended.
The GGN label is a consumer label that stands for certified, responsible farming and transparency. 
Found in stores on both packed and loose fruit and vegetables, farmed seafood, flowers, and plants, the label offers shoppers a quick, consistent way to recognise products that align with their values on the topics of animal welfare and social and environmental responsibility.
Aeon became the first retailer in Asia, and, with Spinneys in the UAE, one of very few select retailers worldwide to adopt the original green GGN label on fresh fruits and vegetables in a pilot programme in 2018.
Following the successful conclusion of the pilot programme, the GGN label is being reintroduced after being rebranded as a single cross-category label for use on fruits and vegetables, farmed seafood, and flowers and plants.
GlobalGAP managing director Kristian Moeller expressed his appreciation for Aeon's partnership over the years that had led to the release of the GGN label in stores in Japan.
"We applaud Aeon's move to introduce our new consumer label," he said. "Their strong commitment during the successful pilot phase has allowed GlobalGAP to develop today's growing acceptance in Japan."
In addition to signalling compliance with GlobalGAP's Integrated Farm Assurance (IFA) standard, the yellow GGN label includes additional assurance of responsible labour practices through the GlobalGAP Risk Assessment on Social Practice (GRASP) add-on, making it the only label of its kind in Japan to include assurance of good social practices.
The GGN label additionally assures the use of a GlobalGAP recognised residue monitoring system and Chain of Custody (CoC) farm-to-shelf segregation of products with the GGN label.
The GGN label is owned by FoodPLUS GmbH in Cologne, Germany.