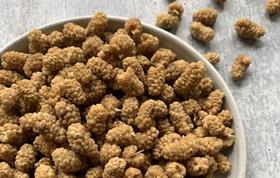 It's peak harvest time in the snowy foothills of the Hindu Kush Mountains for a tiny, rare superfood in Northern Afghanistan, known as white mulberry.
White mulberry is one of the most famous fruits of Afghanistan. The country's climate, especially in mountainous areas with good soil moisture, provide a favourable production area for the famed berry.
Early season growing conditions have delivered a busy year for the farmers, who are predicting an excellent yield of the fruit.
Unfortunately, due to the remoteness of the main production and the short shelf life, these delicious fruits rarely make it to international markets in their fresh state.
Fortunately for the international consumer, the villagers and farmers in these districts collect and dry the white mulberries naturally. In recent years, the fruit has been making an impact in new export markets.
White mulberries are wild grown in the vast plains of the Kush Mountains, where they have been valued for centuries. Like many other nuts and dried fruits of Afghanistan, white mulberries have long been used and exported to Asian countries and are now finding global markets and growing demand due to their health benefits and nutrients.
These tiny products are smaller and sweeter than most mulberry varieties, with the flavour of the rare fruit described as super sweet and akin to honey, and with a brilliant crunchy mouthfeel.
Berries ripen in July and August, and export starts in September. White mulberry is a great snack and can be used as a complement to beverages, dessert, and dairy products preparations that require sweetness.
"This raw product is a special fruit with special taste and has high demand in the international market with many return and new customers each year," said Frozan Hashimi, relations and research manager at Tak Dry Fruit Company.
White mulberries are sun-dried in farms and villages and are transported to export facilities for sorting and packing.
Tak Dry Fruit, based in Mazar-e-Sharif, is processes and exports dry fruits and nuts including raisins (red, golden, black, and green), dried mulberry, dried apricot, dried cherries, dried prunes, and almonds, with other products assessed on needs-basis.
The company is one of the main exporters of dried white mulberries in Afghanistan, and its export volume reaches over 200 tonnes each year.
Tak Dry's main export markets include the US, Australia, Germany, Spain, Latvia, Turkey, India, UAE, UK, Canada and Russia. Hashimi said the company expects to grow and expand its exports to other international markets whenever they see the opportunity.
"White mulberries are selected at the peak of ripeness, hand-picked and sun-dried to preserve their nutritional benefits and create a perfect, crunchy texture," commented Hashimi.