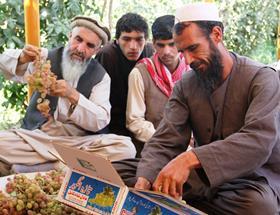 Afghanistan's fresh and dried fruit exporters are looking for the best options to continue trade in the face of the collapse of the Afghanistan government.
As it stands, exporters are scrambling to secure alternative routes for exports, with air corridors and flights closed and harvest rapidly approaching.
Landlocked Afghanistan is reliant on ports in other countries for imports and export. India is the biggest export market for Afghanistan's producers, and the country's Torkham and Chaman borders with Pakistan are the land routes used for trade activities from Afghanistan to India.
Reports show the Taliban has invited exporters and all Afghans to continue to their normal lives and businesses. Zabihullah Mujahid, the Taliban spokesman, said; "The economy is a fundamental and important issue, and all investors should invest in the country.'
He also asked other countries to invest in Afghanistan. The Taliban has repeatedly promised not to disrupt any trade activity in transit routes.
Most Afghan families have agriculture as their primary source of income, and farmers are gearing up to collect the season's harvest and sell it to traders and exporters.
Afghanistan grows and exports a range of products, including apples, apricots, cherries, melons and grapes, as well as many dry fruits to India and other countries.
Afghanistan's commercial attaché in India, along with the Afghan Ambassador in India, have. asked all Afghan traders to continue their operation as usual and reassured the Afghan Embassy in India will support them if they face any problems in India.
Muhiuddin, owner of Mobin Afghan, plans to export Afghan grapes and melons to India by refrigerated vehicles through the Wagah border, the transit port between Pakistan and India.
However, he said he would wait for the Afghan Chamber of Commerce and Investment in India to pass the documentation clearance due of the recent political changes. He previously used this route to export fresh fruit when cargo flights were not available, with it taking an average 2 to 3 days for vehicles to reach to Wagah border.
Noorullah Lodin, the owner of Noorullah S/O Khan, said; "I am not going to just sit and watch, I will export fresh fruits to Delhi and Kolkata cities of India this season."
Traders in India have also raised their voice and asked the Indian government to recognise the situation and help the traders to avoid financial crisis.