Japanese automatic pepper harvesting robot recognised with innovation award at CES 2023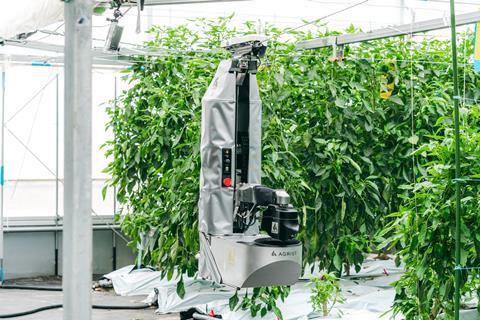 Agrist received international recognition at a leading technology show for its automatic pepper harvesting robot.
The Japan-based robotics company was listed as an honoree for the Best of Innovation award at CES 2023, a global technology event held in Las Vegas on 5-8 January.
The robot, called "L", hangs from wires allowing it to move throughout a glasshouse without being hindered by uneven ground. It utilises multiple cameras and artificial intelligence to identify the peppers that are ready to harvest and accurately grasp and cut.
The robot uses a belt to cut the pepper from the plant and reproduce the double cutting method, which separates the pepper from the tree and then shortens the stalk to reduce damage once packed.
The honoree was bestowed by a panel of industry experts, including media, designers, and engineers, will judge submissions based on innovation, technical prowess, functionality, aesthetics, design, and more.