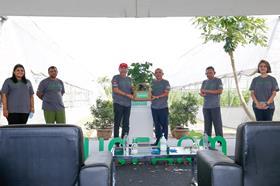 AirAsia has launched Ourfarm, a new business-to-business (B2B) e-commerce platform connecting Malaysian farmers directly with businesses.
The Malaysian-headquartered airline aims to boost the income of farmers by eliminating middlemen costs and providing logistical support, allowing the farmers to fulfil orders directly.
The platform, set up in partnership with the Malaysian government, was launched on 15 June by representatives from AirAsia the country's Minister of Agriculture and Food Industries.
It will initially support over 1,000 government contract farmers as well as owners of private farms.
Ourfarm leverages AirAsia's ecosystem, which includes cargo, logistics and payment capabilities along with its database of businesses and consumers.
Furthermore, the platform, at zero onboarding cost, offers farmers a chance to receive training on digitalising their business with e-commerce courses from RedBeat Academy.
The service currently covers the Klang Valley area, with plans to expand nationwide in the near future. AirAsia said there is also the potential to build in export/import capabilities and regional expansion in the longer term.
Datuk Kamarudin Meranun, executive chairman of AirAsia Group, said the platform would reduce the cost of supplying fresh produce.
"This platform is a disruptor and will help many small businesses by reducing the cost of fresh produce procurement by up to 25 per cent as they will be able to source directly from the agriculture producers," Meranun said.
Lalitha Sivanaser, chief executive officer of Ourfarm, told Bloomberg there has already been interest in using the platform to export fresh fruit.
'It's the durian season now and we're working very hard to get them on board,' said Sivanaser.
'The Singaporeans, the Thais, as well Indonesians have reached out for durian exports using our platform.'
Asiafruit is now available to read on your phone or tablet via our new app. Download it today via theApp StoreorGoogle Playand receive a two-week free trial along with access to previous editions.