B2B cross-border payment service now live on DiMuto's global agrifood trade management platform
Global fintech player Aleta Planet has announced that customers using DiMuto's agrifood trade solutions to track the movements of perishable goods through the global supply chain can now use its payment solutions.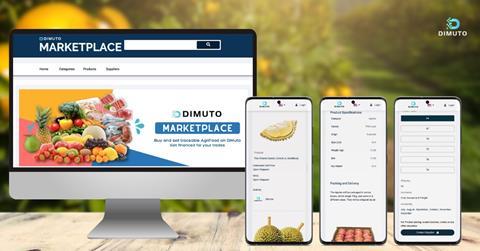 According to Aleta Planet, by integrating its payment solutions with DiMuto's blockchain-enabled platform, it is able to offer a high degree of transparency and traceability to businesses and institutions involved in the trading and financing of agricultural products like fresh vegetables and fruit as they move from farm to table.
The payment functionality went live four months after Aleta Planet and DiMuto announced they were teaming up to tackle supply chain inefficiencies that have led to gross wastage and lack of access to financing in the global trading of perishable agrifood products.
DiMuto's agrifood trade platform offers three key services – DiMuto Marketplace, DiMuto Trade Management and DiMuto Trade Financing.
DiMuto leverages its ecosystem of traceable buyers and suppliers to move traceable agrifood products around the world. Once the order has been placed between a buyer and a seller, the products are tracked and managed using DiMuto's Trade Management module. These orders, with the added visibility on DiMuto, are now available for financing on DiMuto.
DiMuto's proprietary digital asset creation technology (Dacky) tracks agrifood products with QR labels and digital images to track the movement of produce so that every buyer and seller of goods and services along the supply chain – from farmers and packers to the logistics and shipping companies, distributors, and retailers – know where the products are at any point in time.
Ryan Gwee, founder and group chairman of Aleta Planet, said the fresh produce industry understands the importance of traceability.
"Everyone involved in the global trading and financing of perishable products knows how useful it is to have maximum visibility of the flow of goods and funds along multiple points in the supply chain. Now they can have that and more - visibility of products, documents, and payments down to each carton and item," said Gwee.
"We are confident that Aleta Planet's payment solutions for DiMuto's blockchain-enabled platform will go a long way to making trade in agricultural produce safer, smoother and speedier."
Aleta Planet said it issues digital accounts globally that enable cross-border B2B payments. With its global account setup, customers can leverage card networks like Diners Club, Discover Network, MasterCard, Visa and UnionPay International, or alternative payment solutions, to find the most cost-effective cross-border payment mechanism. Aleta Planet's global footprint across six jurisdictions and ability to collect local currencies are value-adds to DiMuto to scale its business globally.
Participants in the supply chain will be able to leverage the digital account's ability to collect and pay in 14 different currencies. Financing is also available through Aleta Planet's partners including Asia Capital Pioneers Group (ACPG), the parent company of Aleta Planet.
Gary Loh, Founder and Chief Executive Officer of DiMuto, said: Aleta Planet plugs two gaps in DiMuto's all-in-one platform.
"These are the payment and settlement, and financing services that are critical in helping to grease the flow of perishable produce," said Loh.
"DiMuto's mission is to redefine global agrifood trade and to that end, we will continue to deploy the latest fintech applications and work with partners who can value-add and help our customers with insightful trade data so they can see the full picture in the messy middle of the retail supply chain."