Chinese researcher travels to Australia to help apple growers improve fruit colour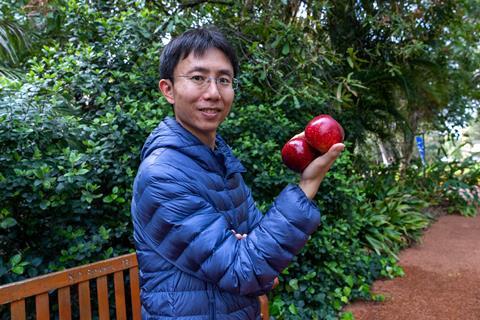 An international research scholarship recipient has arrived in Western Australia to undertake foundation research that will assist apple growers to improve fruit colour – a significant driver of fruit quality and profitability.
Zhe Gao, from the Inner Mongolia University of China, has a background in analysis of plant flavonoid components.
His one year visiting fellow scholarship is funded by the China Scholarship Council Program and co-hosted by the Department of Primary Industries and Regional (DPIRD) and The University of Western Australia (UWA).
DPIRD fruit and perennial crops lead Dario Stefanelli said Zhe's work would lay the groundwork to better understand possible thresholds at which growers could take action to enhance apple colour, earlier in the season.
Stefanelli said the project would provide a valuable insight into the interaction between light and colour development in apples.
"The research will examine the quantity and quality of the apple colour, how colour changes, what is driving those changes and the chemical composition of colour," Stefanelli said.
"The field trial component of the research will involve the use of bags to cover the developing fruit, to simulate shade variations, to measure the physiological colour responses to light exposure.
"The biochemical analysis will take apple production to the next level and inform discussion about management intervention options that could improve orchard management, yields and quality."
Fruit colour is a crucial component of apple production, which underpins market quality requirements and consumer preference.
Variety ANAPB 01, for example, has to satisfy strict colour requirements to be marketed as a Bravo premium apple.
ARC Future Fellow at The UWA Institute of Agriculture and School of Molecular Sciences and DPIRD research scientist, Michael Considine, said the research could be a "game changer" for apple producers.
"A better understanding of the physiological development of apple colour, together with emerging technology will enable the apple industry to refine orchard management," Considine said.
"Growers will be able to identify the optimum time – earlier in the season – to intervene to improve fruit colour, removing the need to wait to pick fruit and maximising orchard potential."
The initiative builds on a one year research project by DPIRD and Pomewest, a sub-committee of the Agricultural Produce Commission, that evaluated the use of monitoring and mapping technology to refine orchard management.
The project examined technology that uses Light Detection and Ranging (LiDAR) remote sensing data and digital images to map and monitor orchard growth, developed by Australian company Green Atlas, with in-kind support from local supplier Aero Vines.
"This technology has great potential," Stefanelli said. "It will make it easier for growers to identify fruit variability to better direct logistics and labour, as well as help prepare the apple industry for mechanisation and robotisation."
Pomewest executive manager Nardia Stacy said the project, made possible by West Australian apple and pear growers' contributions, was helping advance the industry's prospects.
"This terrific research is part of Pomewest's vision to improve the productivity, capability and capacity of West Australian orchards in its endeavour to satisfy customer demand for high quality, sustainably produced, tasty apples," she said.
The findings from these research initiatives will be shared with industry at future field days and forums.