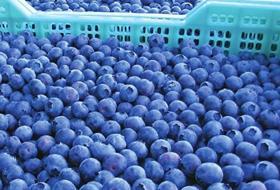 A group of Chinese importers travelled to Argentina this week to learn more about blueberry producers in Tucumán.
Altaifresh, Shanghai Mrong Fruit co and Freshport Group met with representatives from Kingberry, Earlycrop, Hortifrut Expofresh and Frutucuman, as well as the Tucumán Institute of Development and Production with a view to kick-starting exports from the region.
Earlier this year, the Chinese government reduced tariffs in imports of fresh blueberries from Argentina from 30 per cent to 15 per cent.
While still at a disadvantage to Peru, which pays no tariff, Argentina hopes to be able to differentiate itself in China based on the quality of its offer.
China was one of the fastest growing blueberry import markets last year, seeing a 44 per cent increase in arrivals. Of this, 64 per cent came from Chile and Argentina ranked fourth in terms of shipment volume.
Tucumán exports of fresh blueberries totalled US$27m in 2018 and were destined to more than a dozen countries.