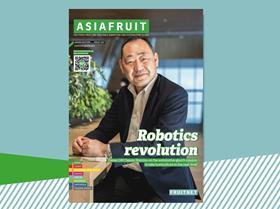 The February 2022 edition ofAsiafruit Magazineis now available on theAsiafruitapp –onAppleandAndroid– bringing you the latest news and views from across Asia's fast-moving fresh produce markets.
Asiafruit's Japan edition is headlined by an exclusive interview with automotive giant Denso on its mission to drive horticulture to the next level.
Osamu Shimizu, general manager of Denso Corporation and chief executive of Denso AgriTech Solutions, discusses the company's vision to develop collaboration between humans and robots, with each learning from and benefitting the other.
Leading players from Japan's fruit trade provide their insights into the current import market, detailing the mounting challenges but also highlighting the categories rising above the turbulence such as kiwifruit and avocados.
The Philippines is at the forefront of Asia's banana and pineapple trades: read what the future holds for the country's industries and get wider updates on the banana and pineapple categories.
As the Southern Hemisphere table grape and apple seasons heat up, Asiafruit February checks in with major exporters to discuss their plans across Asian markets.
All this, plus there are reports on Indonesia, US citrus and Mexican exports.