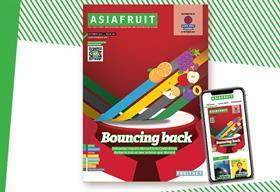 The October edition ofAsiafruit Magazineis now available on theAsiafruitapp –onAppleandAndroid– bringing you the latest news and views from across Asia's fast-moving fresh produce markets.
The resurgence of Indonesian fresh fruit imports after a turbulent 2020 is the story of Asiafruit October's market focus. Imports have bounced back in the first half of 2021, with the faster release of import permits facilitating trade.
With 18 months of Covid-19 experience under their belt, key global suppliers to Indonesia have been able to better serve the market with updated marketing approaches helping to promote emerging categories such as plums.
New and innovative approaches to marketing are a theme that filters right through this edition of Asiafruit. A wrap-up of Fruitnet's Global Avocado Congress details how the avocado industry is growing consumption across Asia and educating trade and consumers about the fruit.
In China, domestic producers of kiwifruit, sugar plums and tropical fruit are building local demand for their products by highlighting improved quality. When it comes to citrus, health is the hot topic, with ClemenGold and Asoex's Chilean Citrus Committee sharing their strategies for growth in Asia.
Andrew Darling, managing director of Darling Group, also talks to Asiafruit about the recent investment the New Zealand-based group has received from Booster Tahi, and how it will facilitate plans to grow the vertically integrated fresh produce business.