Asiafruit Congress Online Preview opened with a look at what to expect at this year's Asia Fruit Logistica and Asiafruit Congress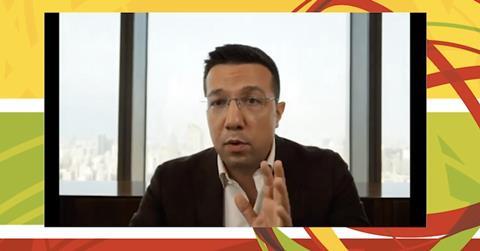 Asia Fruit Logistica and Asiafruit Congress are back in person on 2-4 November in Bangkok, and Asia's premier fresh produce trade show and conference event are set to make a strong return.
That was the key message from the opening session to Asiafruit Congress Online Preview on 7 September.
The free online briefing streamed live from Fruitnet's offices in Melbourne and London to start the countdown to Asia Fruit Logistica and Asiafruit Congress.
Asiafruit Congress Online Preview brought together leading industry players and analysts to provide updates on the latest market changes in Asia and prepare attendees for their visit to Bangkok for Asia Fruit Logistica and Asiafruit Congress.
In the opening interview, David Axiotis, executive director of Asia Fruit Logistica, told Fruitnet managing director Chris White that the global fresh produce trade was really excited to meet up again at this year's show.
"The pandemic has cost us three years of face-to-face meetings, and, judging by the overwhelming interest we've already received for Asia Fruit Logistica this year, I am confident the business in Asia can't wait to get back together again.
"And the good news is that Asia Fruit Logistica is looking very good this year. We've already signed up exhibitors from 40 countries in Asia and the rest of the world – from Europe, the Americas, Africa, Asia-Pacific, from everywhere. And we've also got group pavilions from almost 20 countries. So it's looking good!"
Asia Fruit Logistica is moving to Bangkok this year from its traditional location in Hong Kong, and it takes place at the Queen Sirikit National Convention Center (QSCC). The venue hosted the first-ever Asia Fruit Logistica back in 2007, and it has recently undergone a multimillion-dollar upgrade, adding five times more space as well as cutting-edge technology and services. That makes QSCC the ideal venue for this year's event, Axiotis noted.
"It'll be a bit smaller than a normal Asia Fruit Logistica, but then this isn't a normal year and I think it's to be expected," he said. "Fruit Logistica in Berlin last April was also smaller, but the quality of the exhibitors and visitors was excellent as always and people left very happy. We will be delivering the same this year at Asia Fruit Logistica in Bangkok."
Asiafruit Congress on show floor
John Hey, editor of Asiafruit Magazine, outlined some important changes to the event programme at this year's Asia Fruit Logistica. Asiafruit Congress, Asia's premier fresh produce conference, is back in person, but rather than taking place the day before Asia Fruit Logistica, sessions will be held on the show floor on all three days of Asia Fruit Logistica alongside Asiafruit Business Forum.
"Asiafruit Congress sessions are taking place on the exhibition floor. It means they are available for free to every exhibitor and visitor to Asia Fruit Logistica," Hey detailed.
"And in these Asiafruit Congress sessions we're going to be hearing from the big names in the business about the big trends, the big changes, the big issues.
"We also have the same workshop-style sessions that people are used to. Workshops on marketing and consumers, on cool logistics, on developments in tech. This year they're all grouped together under the banner of Asiafruit Business Forum, and they all take place on the expo floor."
Asia Fruit Awards back in person
The Asia Fruit Awards, the prestigious pan-Asia awards for Asia's fresh produce business, are also back in person at Asia Fruit Logistica. "We have some really worthy winners to announce again this year," said Hey. "The Asia Fruit Awards will be presented on the expo floor for the first time, so everyone can be there to meet our winners and congratulate them."
Welcome get-together
Asia Fruit Logistica and Asiafruit Congress are hosting a welcome get-together on 1 November, the evening before the trade show.
"Asiafruit Congress and Asia Fruit Logistica have always been about networking – about meeting up with one another, catching up with old friends and making new contacts," said Hey.
"So together we're putting on a party to celebrate coming back together again," added Axiotis. "Trade shows are all about bringing people together again. So keep the date in your diary – Tuesday 1 November."
Listen to Chris White's interview with David Axiotis and John Hey on Fruitbox.
If you registered for Asiafruit Congress Online Preview, you can watch back sessions on demand here.